MA-VE hydraulic motorhome levelling

The MA-VE system levels, stabilises and secures your vehicle in less than 2 minutes. Before the kettle has boiled the four jacks will be locked in position ensuring fridges operate correctly, food doesn't slide around the plate, shower trays empty and your night's sleep is a good one.
Operated by the simple control panel or free smart phone app, the system can also be adjusted manually to change a tyre, empty water tanks or even winterise your vehicle.
The benefits of a MA-VE hydraulic motorhome levelling system

Simple levelling at the push of a button
Fully automatic hydraulic levelling jacks
Sturdy and vibration-free position
Change any tyre easily
Additional theft protection & piece of mind
Maintenance-free with 3 year warranty
Completely hydraulic levelling system
Safety feature prevents driving off with hydraulic jacks deployed
Ready for immediate use
Improved waste water drainage from sink and shower
Jacks are retracted hydraulically, preventing them from getting stuck in mud.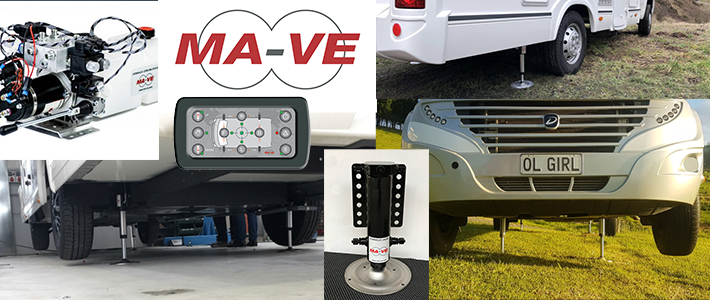 Prices supplied from:

£n/a

Prices inc fitting from:

£4750*

* Price correct at time of print